The Innovative Leadership Series presents:
Dev Gabor
Author; Founder & CEO, Sol Marketing
Bring a brown bag lunch and join the Clemson University MBA Program and The Erwin Center for Brand Communications at Greenville ONE to meet Deb Gabor.
Remember the last time you had the feeling you wanted to take a "roll in the hay?" The best brands in the world can give their customers that same kind of feeling.
Strong brands help their customers solve problems, present a positive image to the world, feel empowered, feel accomplished, and feel like the hero in their own personal stories. In this engaging and action-packed keynote, Deb Gabor works with audiences to help them understand how to make their customers the heroes of their own stories. While many branding speakers drone on about abstract principles, Deb speaks in practical terms that lead audience members to walk out of the room and call their colleagues to implement her ideas.
Attendees will learn:
• How to create audience avatars that capture what really matters
• Where they fall on the Brand Values Pyramid, and how to get to the top
• Why classic character and story archetypes should be the core of your branding
...and ultimately, how branding is like SEX.
Through a lively and entertaining mix of keynote speaking and workshop activities, Deb helps everyone in the room understand why branding matters and, more importantly, what to do about it.
About Deb:
Deb Gabor is the author of the bestselling book, Branding is Sex, Get Your Customers Laid and Sell the Hell Out of Anything and founder and CEO of Sol Marketing, a brand strategy consultancy obsessed with solving major business and marketing problems for clients in every industry.
Companies throughout the world use Deb's Brand Values Pyramid, Ideal Customer Archetype, and "Brand Swagger Questions" constructs to gain internal strategic alignment among their teams and articulate their brands to audiences. Deb and her team at Sol Marketing have led brand strategy engagements for organizations ranging from international household names like Allrecipes, The Associated Press, Dell, Microsoft, NBC Universal, NPR, NTT Data and Siemens to exciting emerging brands like hint water and Indagare. Deb is also the author of a bestselling business book about branding called Branding is Sex and a frequent contributor and expert commentator in major news outlets such as Entrepreneur, Forbes, FORTUNE, Inc., MediaPost, New York Times, NPR, USA Today, Wall Street Journal, and The Washington Post. Business and marketing organizations alike frequently call on Deb as a keynote speaker and workshop leader to inspire their executives to embrace the power of branding for creating customer and shareholder value.
This event is FREE and open to the public.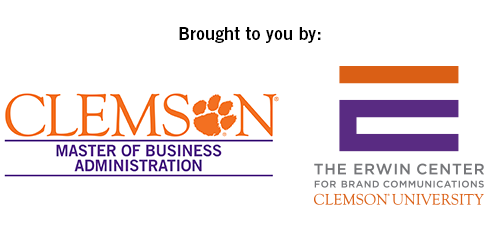 Friday, November 2, 2018 at 12:00pm to 1:30pm
Greenville ONE, 6th Floor, Room 601 1 North Main Street, Greenville, SC 29601